Strain Counterstrain I (SCS I) it's an entry level, no prerequisite are required. This course focuses on spinal and pelvis dysfunction.

Lecture and extensive lab time are spent on:

Neurophysiology & basis for somatic dysfunction


Rational for SCS


General rules for SCS


Cervical evaluation and treatment lab


Thoracic and Ribs evaluation and treatment lab


Lumbar evaluation and treatment lab


Pelvis and sacrum evaluation and treatment lab


Design a home program using SCS philosophy


Emphasis is placed on developing palpatory skills to enhance the students' effectiveness with the techniques. Will be explained how to evaluate all the major postural dysfunction of the rachis and treat the specific area so to release pain and achieve the lost mobility.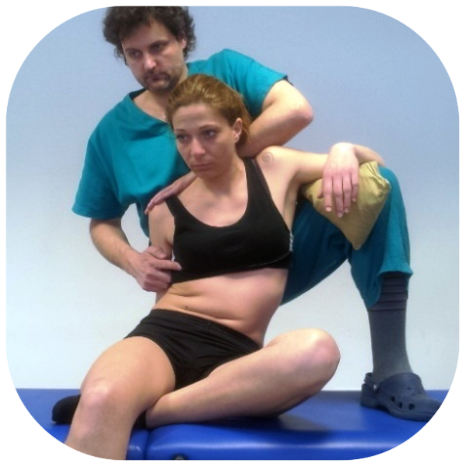 Will be explained the connection among the various spine area and the relation with the extremities. As well as ortho and parasympathetic relation among common pain syndromes. Will be taught how to evaluate and treat several ribs dysfunctions.

Upon completion of this course participants will be able to:

Understand the neuromuscular basis for SCS


Perform a full body SCS evaluation


Perform SCS treatment techniques for common joint dysfunction


Use the SCS documentation format


Design a home program using the SCS philosophy


More than 85 different techniques will be demonstrated.

The main dysfunction treated with this course are:
Arnou syndrome, Temporal ache, Neck vertigo, neck stiffness, Neck pain from erroneous vertebras position, whip-lash pain, Brachialgy, Thoracic outlet syndrome, Elevated and Depressed rib dysfunctions, Sternum pain, Dyspnea, Pericordial pain, Pirosis, Dyspepsia, Nausea, Diarrhea, Constipation, Urinary problems, Cystitis, Diffuse rachis pain, Localized rachis pain, Sciatic neuralgia, Fascial pain syndrome, Anterior & Posterior sacro-ilaic dysfunctions, Unequal leg length, More than ten Sacro-coccyx dysfunction, Perineum pain, And many other complains.